Drawings for Ukraine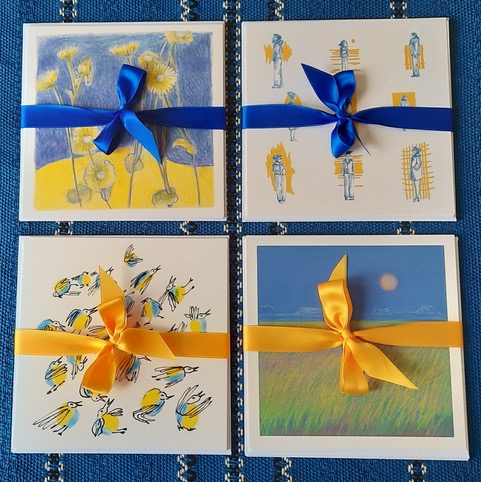 Card set: 'We draw for Ukraine'
When Russia invaded Ukraine in 2022 and a brutal war began, we wanted to do something to support the people of Ukraine: Create drawings. We each made a drawing with the colours of the Ukrainian flag and bundled these into a card set.
The proceeds from the cards go to artists and museum employees in the Ukraine. They often have no income in this time of war. Through the campaign of the Museum Crisis center in Lviv, they receive money directly from colleages and sympathisers from all over the world.
Who are we?
At the start of the corona pandemic, Ina Brekelmans invited artists Donnée Festen, Astrid Kemper and Machtelt van Thiel to participate in a Whatsapp group and called this group 'the drawing of the day'. Every day new drawings appeared on the screen. It offered us a lot of inspiration and guidance during this period.
Ever since, complete and semi Lockdowns further, we continued to create drawings. The name of the group changed into 'Day & Night Drawings'. Drawings are not only created during the day, but also at night.
To order
You can order the card set 'We draw for Ukraine' by sending an e-mail to Astrid Kemper (akboekenberg@gmail.com).
State your name and address, postal code, place of residence and country and the number of cardsets you want to order. You will receive an invoice, after payment the cards will be send to you.
Purchase
'We draw for Ukraine'
4 yellow/blue cards, 15 x 15 cm with envelopes
Day & Night Drawings: Ina Brekelmans, Donnée Festen, Astrid Kemper, Machtelt van Thiel.
Design: Sandra Kok, www.s-kok.nl
Published by black print.nl
€ 12,- (incl. VAT, excl. shipping costs)
Learn more